As per usual: Aki Con=impossibly bro
-TEENAGE MUTANT NINJA TURTLES and my Leo mask not fitting right... sorry if I winked at you, I was being stabbed in the eye I wasn't hitting on you!!! Well... maybe sometimes I was.
-Crashing a card game in the lounge to take photos of a group of kickass cosplayers. Got one amazing photo of a Demyx WTF facing and it is forever engrained in my heart.
-Met SO MANY new people and chatted with them, thanks for dealing with my awkward conversational skills everyone! XD
-AWESOME ARTIST ALLEY!!! I wish I had more money to burn so I could have bought something D:
-Pizza party where we told stories about my TERRIBLE PAST and broke cups
-LazerPegusus and Takahata101's How to be a Superhero panel. I now fully understand Booster Gold.
-Rapunzel skit elevator adventures... SO MUCH RAGE. *doors close* "NOOOOOOOOOOOO" *Mother Gothel and Rapunzel go down 6 floors*
-I always ask

to cosplay my favourite character in a series...
-

and I got to live our our fantasy bromance: Maximus and Flynn
-Going down for coffee in the morning and meeting about 20 people there and taking a huge group photo, didn't expect that that early in the morning but it was AWESOME
-

's pie on Sunday... A FREAKING PIC! HANDMADE! WHAT IS THIS WITCHCRAFT
-

... why do we love and touch so much? I mean really, I barley know you?... eh
-Human Palace chinese restaurant with... well freaking EVERYONE. Our big happy family took up a corner of that place.
-

and

.... banana BANANA
-Tangled photoshoot with

,

,

,

, Clint and William. BUTTERFINGAS FROM THE SKY! And crossing the crick with grace and beauty.
-

, in the arms of the angels, fly away from here
-

slapping my in the face with a plush bacon... THE EYE HIT MY TOOTH it's ok bro
-The FFT, in general. Beasts of Hentai had me sing out one of the judgements from the judges panel on the spot. That was the last of my voice...
-Calling out Starbucks drink orders after I completely lost my voice, DAT SQUEAK
-Drawing beautiful art in

sketchbook
-Hanging out on Saturday night and Sunday morning with

,

, Clint, William and

-HOT CHOCOLATE AND TEA! The saviours of my throat
-Discovering that we are all figments of poor unfortunate

's imagination
-Discovering that

is a figment of my imagination DON'T SIT THERE THAT'S VALDREIN'S SEAT D=<
-Pretty much the entirety of both of our meals at Azteca and the man trolling us from the ceiling.
-"She's an evil enchantress and she does evil dances..."

and Clint...
-The members of FDP were all given bracelets made by a wonderful girl we met, I can't remember her DA name though D: if that was you please let me know!!!!
-"Moustache" the motion picture, look for that coming winter 2011 from Becky and Lucas Productions ltd.
Best of all, the Aki Con organizers and staff always do a spot on job running the con. It's got unique and fun decoration/set-up and a friendly/inviting atmosphere.That's probably why Aki Con has become my favourite con over the years. LIVE ON BRO-CON. Rest assured, we're returning to Aki Con next year. It feels like a home con to me despite being in a different country XD
Summing up the con with this photos that

took at Human Palace. What ISN'T going on in this picture?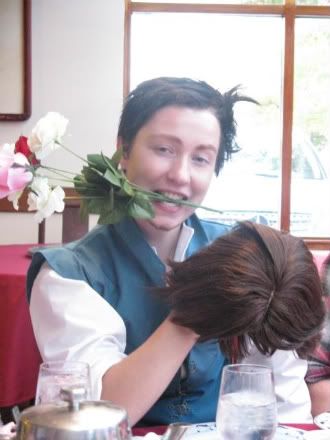 New FDP Skit! Tangled: Finding Rapunzel
Just uploaded!:
[link]